Family Enterprise of the Year Award – Quebec Celebration
November 25, 2021 @ 5:00 pm

-

7:00 pm

EST
Family Enterprise of the Year Award (FEYA) season is back! Join us in-person for our Quebec FEYA celebration. It's time to come together to honour and celebrate this year's finalists - Ed Brunet and Associates Canada Inc., GROUPE AGF INC. and Southshore Industries Ltd.!
For the past 35 years, our FEYA ceremonies have become a cornerstone of our community; giving us an opportunity to recognize and promote the achievements of Canadian family businesses. More than an award, FEYA is a reminder of how much family enterprises matter to our national economy and to the people touched by their businesses and strong values.
This year, you get a chance to hear directly from the Brunet, Gendron and Laflamme families. You will be inspired by their remarkable stories of how they have overcome challenging times and become cohesive family units building their legacies across generations.
Show your support for these families and be a part of this remarkable evening with your community. Space is limited - reserve your seat today!
Thursday, November 25, 2021
5:00 PM - 7:00 PM EST
()
Steve Legler | Family Governance Coach – Family Legacy Guide
Helen Antoniou | Elenico Consulting and Author
Our entire Family Enterprise Canada community is invited to attend.
FEAs who attend will earn 2 continuing education credit toward their annual FEA designation requirement.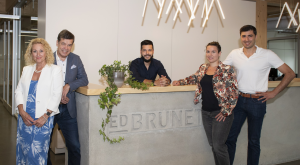 Ed Brunet and Associates is a 5th generation family business providing general contracting services in the region of Gatineau, Québec. The reputable firm is led by members of the 4th and 5th generations of the Brunet family and proud to be celebrating its 120 years in business this year. With a strong team of highly competent, qualified, and engaged employees, the Ed Brunet team pursues its activities in various sectors of the construction industry: Industrial, Commercial, Institutional and Residential.
As client satisfaction is first and foremost, the Ed Brunet team is always looking out for innovative and sustainable solutions while adapting its activities to various management models to better meet the needs of its diversified clients. Over the years, the company has developed strong and trusting relationships with clients, subcontractors, and construction industry professionals, through transparent and respectful communications and dealings and by delivering excellent quality projects for the benefit of clients and communities.
For some time now, Ed Brunet and Associates' management team has been planning the gradual transition of the family business over the next few years. They are privileged to have in place a strong team of both family and non-family members, who continue to build a bright future for Ed Brunet in the construction industry, for generations to come.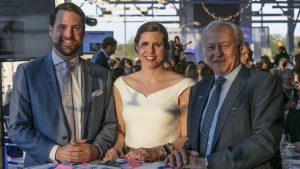 In 1948, Laurent Gendron, as soon as he left university, created Acier Gendron ltée, the first company in Canada to specialize in the production and installation of reinforcing steel.
In the 1950s, the company got involved in the construction of major infrastructures. Slowly but surely, it was building its expertise to carry out both small and large-scale projects. In 1981, Serge Gendron, Eng., FEC, son of Laurent, became president of Acier Gendron Ltée. Then in 1999, he acquired Fertek. And so AGF was born. Under his leadership, the company grew over the years, through acquisitions, partnerships and the creation of new companies. Ther turnover of the business has doubled every five years
during the last twenty years.
The AGF Group has already participated in more than 40 thousands rebar projects, from residential to civil engineering, as well as commercial and institutional projects. Today, AGF Group's mission is to proactively contribute to the success of its customers by offering ingenious technical solutions in the field of reinforcing steel while ensuring its employees a safe and stimulating environment in a spirit of performance and social solidarity.
Beyond his commitment to his company and his profession, Serge Gendron contributes to several philanthropic causes, in particular to La Fondation et Alumni de Polytechnique Montréal and la Fondation Santé Urbaine, of which he has been a proud ambassador for more than 30 years. In addition, in 2012, he founded the AGF Group Foundation, which collects donations to
redistribute them to charities in communities where the company operates across the country. Since its creation, the AGF Group Foundation has redistributed nearly $ 3 million in Canada.
Today, the AGF Group is made up of 2300 employees and includes more than 25 business units established in Canada, Chile, Colombia, Costa Rica, France, the French Antilles, Peru, Ecuador and India.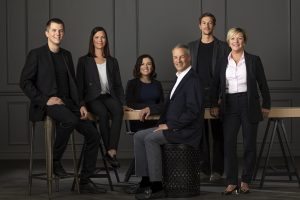 South Shore Furniture's business model has changed and evolved over time to keep pace with ever-changing needs and trends. Starting as a manufacturer of wooden toys in 1940, the company then turned to wooden dining room furniture in 1941, and finally converted to timeless wooden bedroom furniture in 1950 when the chrome dining room debuted making that market overly competitive. South Shore evolved with the wooden bedroom business model for many years by integrating its assembled furniture into the retailer market as well as that of the catalogue industry. In 1986, South Shore produced its very first ready-to-assemble furniture, and in 2004, the first ready-to-assemble furniture purchased over the Internet was shipped to a consumer. South Shore Furniture became the first North American furniture manufacturer to sell RTA (ready-to-assemble) furniture via the Internet, through direct-to-consumer delivery.
For the last several years, South Shore has focused on the development and refinement of its business model, whether it is technological expertise, the development and manufacturing of furniture specifically intended for online sale, specialized packaging for this type of furniture, logistical strategizing, knowledge of the target consumer eloquently referred to as Sarah, and online merchandising through photos, romances, descriptions etc. Now what proudly sets South Shore's strategy apart from its competitors is the passion it has developed to always make life easier for the consumer by helping them create personalized furniture and decor solutions they in turn can be proud of. South Shore now has more than 1,000 employees; spread out over 3 factories and 5 distribution centers located in Ste-Croix (QC), Coaticook (QC), Juarez (MX), El Paso (TX), Nashville (TN) and Salt Lake City (UT). Each day, during peak periods, South Shore supports the entire transaction for up to 10,000 pieces of furniture. From the time the consumer places an order all the way through to at home delivery, and most importantly by offering complete after-sales services to its consumers.
South Shore as a 4th generation company has maintained close ties with the community since the beginning of its existence. Socially involved, it supports many non-profit organizations, either directly or through the South Shore Foundation. Whether through monetary donations or furniture donations, the company and the Foundation make sure to particularly support organizations that help children in need, in its six locations across North America. Social commitment is widespread among employees who are committed to giving back to the community and is an axis of sustainable development in the organization. In its initiatives to promote sustainable development, South Shore relies on community action and green energy.
Details
Date:

November 25, 2021

Time:

5:00 pm - 7:00 pm

EST

Event Categories:

Event Tags:

Website: